Go Back
Jean O'Donnell Saporita (1926 – 2018)
January 15, 2018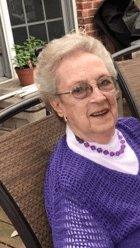 It is with a heavy heart that I send this email of the news that our former Corresponding Secretary of the New York Association of Independent Adjusters, Inc. Jean O'Donnell Saporita, at the age of 92, passed way on Friday, January 12, 2018.
Jean O'Donnell Saporita joined the independent adjustment firm of Prentis B. Reed & Company as a secretary in the 1940's. Prentis B. Reed was considered the "Dean" of the independent adjusters-not only in the New York market but nationally as well. He authored the book-Adjustment of Property Losses as well as being a founding member and first president of the New York Association of Independent Adjusters and was instrumental in the passage of the current adjusters licensing law in the state of New York.
Upon the retirement of Prentis B. Reed-the firm was reorganized as the McAndrews Adjustment Company by Jack & Felix McAndrews-where Jean continued as secretary and later moving to their Long Island Office to work for Felix McAndrew. It was during this time that the New York Association of Independent Adjusters needed a dedicated Corresponding Secretary-with Jack McAndrews volunteering Jean for the position.
Jean acted as the Corresponding Secretary for the NYAIAI for over (50) years and was a valuable resource for the Associations Presidents and Executive Committees she worked for-playing a large part in establishing the reputation the NYAIAI enjoys today.
Her service to the adjusting profession and to the NYAIAI in particular was noteworthy and will leave a legacy that will be remembered by all that knew her and worked with her.
Jean was a longtime resident of Rockville Centre, loving mother of Patricia J. Carman and Donna M. Saporita both of Rockville Centre. Jean was pre-deceased by her son Thomas Saporita and son-in-law John J. Carman. She was beloved grandmother of John J. Carman, Jr, Jamie (Jason) Goldband and Thomas O. Carman. She was cherished Great Grandmother of Lucas John Goldband.
Jean was also the founding member of the Molloy Institute of Lifelong Learning (M.I.L.L.). Jean was loved by all who knew her.
In lieu of flowers, donations can be made to God's Love We Deliver.
Friends may call Monday January 15, 2-4 and 7 – 9 pm at the Thomas A. Glynn & Son Funeral Home, 20 Lincoln Avenue, Rockville Centre, NY 11570-5724. Funeral Mass will be celebrated on Tuesday January 16 at 11:00 am St. Agnes Cathedral, 29 Quealy Place, Rockville Centre, NY.