Go Back
Allen Dahle (1933 – 2020)
May 26, 2020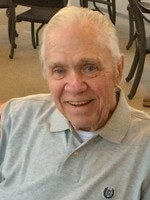 Dahle, Allen A., 87, long-time resident of Valhalla, NY, passed away peacefully on May 20, 2020 at Calvary Hospital from advanced Parkinson's disease. Allen was born in New York City on April 7, 1933 to Erling and Jenny (nee Johansen) Dahle, immigrants from Norway. Raised by a single mother, Allen learned the value of self-reliance, perseverance, humility, and faith at an early age and built his life on those foundations.
He was a graduate of Scarsdale High School, class of 1950, and an Alumni of New York University, where he was a member of the Kappa Sigma fraternity and earned a degree in economics through the Army ROTC program. Allen proudly served in the United States Army Reserves for over thirty years, rising to the rank of Lieutenant Colonel. He started his own insurance adjusting and engineering firm, Allen Dahle & Co, in 1962, and was an active member of the New York Association of Independent Adjusters, serving as president during the 1990 term.
In 1952 he met his love, Marilyn Mertz, on a blind date. They married in 1954, moved to Valhalla, NY and raised a family. To his children, he was everything a dad should be: a kid at heart, gleefully instigating a game of "Gotcha last," a strict disciplinarian when curfews were broken, and their biggest fan, faithfully attending each and every athletic event and dance recital. Mostly, he never missed a chance to say, "I Love you." Proud "Poppie" to grandson and Navy Lieutenant, Logan, and great-grandchildren, Hali and Liam, he delighted in the patriotic bond that he and Logan shared for their love of country. Allen was an extraordinary caregiver to his wife during her battle with Alzheimer's disease, tirelessly caring for her at home, while searching for a cure and never giving up hope. A member of Westchester Country Club for over 35 years, his favorite pastimes were golfing and socializing. Allen's talents and traits were many and varied, from builder, gardener, and chef, to entrepreneur, visionary and humorist. He is best remembered for his quick wit, generosity of spirit, and unwavering compassion toward others. The consummate "glass half full" guy, everything to him was, "No problem!" He was a tremendous source of strength, hope, and joy to those around him, and he embodied all that is good in the human spirit. His laughter and presence in this world will be dearly missed.
He is predeceased by his wife, Marilyn Dahle, mother Jenny (Johansen) Dahle, brother-in- law, Calvin Manning, and niece Linda Feinberg. Survived by son, Alan (Chip) Dahle (Bonnie), Thornwood NY; daughter, Diane "DeeDee" Dahle, Valhalla NY; grandson Logan Dahle (Chelsea), Jacksonville Fl, great grandchildren, Hali and Liam; brother Stanley Dahle (Veronica), Clinton Ct; Sisters-in-law, Patricia Manning, Sherry Dahle; nieces and nephews, Carol Manning (Patrick), Michael Dahle (Bridget), Brad Dahle, Jennifer Scott (Jonathan), and a large extended family in Norway.
In lieu of flowers, please consider a donation in Allen's name to Wounded Warriors Project, PO BOX 758516, Topeka KS 66675 or Parkinson's Foundation, 200 SE 1st Street Suite 800 Miami, Florida 33131.